Are You Making This Vital Career Mistake That Will Stop You Ever Achieving Your Dream Job Working In Sport?
No matter which way you want your career to go and what the ultimate dream goal is…
Making a fast start and ensuring you are heading in the right direction at the beginning of your career is vital.
One of the most common and frustrating things I see is new grads wasting the first 3-5 years of their careers, making little progress, largely because they have been told this is 'normal' and it is 'what everyone has to do.'
It is not!
Maybe your a physio and like me, you were told that you should qualify get a job as a Band 5, go through your rotations for a few years, before deciding what area you want to work in.
Or your a sports therapist or rehabber and your currently working in a clinic or sports club, but just mainly doing massage…
You've been told you will start doing assessments and rehab soon, but 2 years later you are still waiting.
The best thing I did back at Uni was to totally ignore what I was told.
As a physio student I was told to the do the usual NHS thing, spend the first 3-5 years of my career doing my rotations…
Working in neuro, respiratory, MSK…
On the wards etc…
But it made zero sense to me.
How would working on a ward, suctioning a patient, talking a post-op patient through a stairs assessment or working on a neuro ward help me to achieve my goal of working in professional sport.
I just thought…
Surely it would make more sense to try get into sport asap.
Call me simple but that seemed to make more sense to me.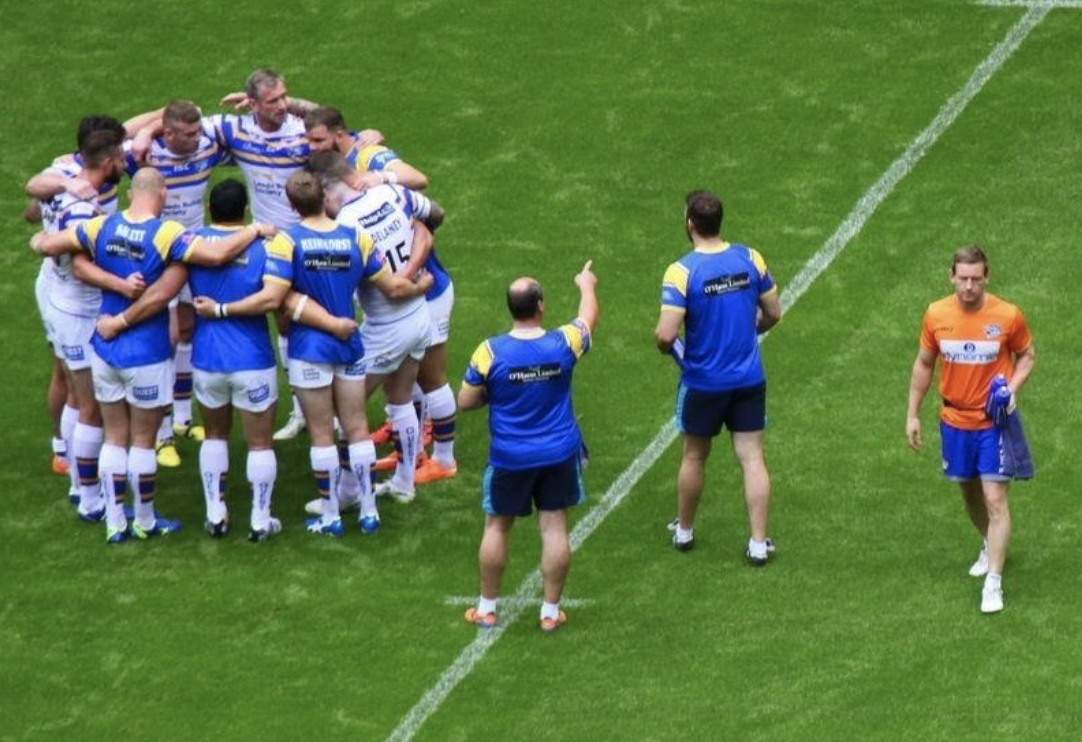 This is me almost 5 years to the day after I graduated, right before the 2015 Challenge Cup Final at Wembley Stadium.
'Working' in my dream job as the Head Physio of the Leeds Rhinos, I job I got promoted to just 15 months after graduating.
A job one of my University lecturers actually told me would take me 10+ years experience before I could even think about applying for!
I'm glad I did not take her advice!
Just to be clear…
I'm not saying that you should not work in the NHS or private practice.
If that's what you want to do you should pursue a career in that area.
But if you don't why do it?
Many of my peers had similar goals to me and wanted to work in sport.
Football, rugby, cricket, you name it.
None of them ever did.
All of them followed the 'usual' physio route starting in the NHS or private practice, working up through the levels.
They tell me now how they regret the early career decisions they made.
Getting into sport now is almost impossible.
You might think that having 10+ years experience would make it easy…
But if none of that experience is in sport then it does not matter.
You could be 25 years qualified and you would be no more likely to get a job in sport than a therapist that has just qualified.
Your also very expensive.
As you progress your career your level of responsibility and pay will generally increase.
Many of the therapists I trained with have good jobs on good money.
Given their lack of sports experience they are not going to be able to command the same salary in sport.
No club is going to pay them the same wage to do a job they could pay a new grad much less.
They would have to start at the bottom of the ladder again.
That might mean leaving a role in the NHS or private practice of £30-40k+ for a job in sport paying £18-20k.
Thats a 50% pay cut.
They have mortgages, cars, kids to provide for so taking that kind of payout just would not work.
Whilst all these things might seem a million miles off for you right now if you have just graduated or if you are still studying…
They are not.
Your early career will fly by and at the same time so might the best opportunities to get that dream job.
There is no better time to forge a career in sport than at the start of your career.
If you want to follow the crowd you might end up in the same situation as the therapists I studied with.
Stuck in a job you don't really enjoy…
Telling yourself it is 'ok' because you get a decent wage…
Kidding yourself that 'this' role is what you always wanted to do.
But I suspect you want a bit more than that.
How do I know that?
Because your still reading this and you want to learn how to fast-track your own career.
Whether your 3 weeks, 3 months or 3 years out of University it does not matter.
Maybe your still studying.
You did not spend 3+ years at Uni, busting a gut to pass your course to do a job you do not enjoy.
To spend the next 30-40 years wishing you were doing something else.
Why the %£+* would you do that?
Again, call me simple, but this make zero sense at all.
Yet therapists do it all the time!
ALL the time!!!
Whether you're a New Grad Physio, Sports Therapist or Sports Rehabilitator, those early stages of your career are vital.
Navigating your journey in the NHS, private practice or sport, or even a student therapist working your way through your studies and placements can be tough.
So do not make it harder than it needs to be.
Hope this helps
Andy
PS. If you want some help building your own success path and want to learn how to open doors to the best placements or new grad jobs then I can help.
I have helped dozens of therapists do exactly this and you can hear from some of them right here.
If you want to learn how to get the same type of career success, fill in the quick form at the bottom of the page, hit submit and I'll get back to right away with some help!
Head here.