How To Eliminate A Lack Of Confidence When You Graduate – 3 Top Tips From A New Grad Sports Therapist
I recently caught up with Jade Danes a sports therapy graduate currently working in both professional sport and private practice.
I have known Jade for about a year and in that time she has taken great strides in her career…
From being turned down for jobs in both clinics and at professional sports clubs in favour of other sports therapists or physio's…
To now working in professional sport, including elite rugby union and rugby league, whilst running her own business!
Jade had some great tips for other aspiring New Grads and here are some of them…
Don't Snub Your Opportunities
Jade spoke about the seemingly increased resistance from New Grads (and students) to take opportunities that cone their way.
'Too many New Grads turn their nose up at certain placements and even jobs…'
I have seen this too.
I see it almost every day and especially on social media…
With students and New Grads alike, devaluing certain opportunities because they are not quite what they want.
For example…
You might want to work in professional sport and as such see an opportunity in amateur sport as inferior.
Maybe you won't get paid that much, maybe not at all in some roles.
But think about the opportunity to assess, treat and rehab the players you work with.
Think about what you might learn.
Think about the opportunity to test out and put into practice your current knowledge…
And discover your gaps in knowledge and what you need to learn more about.
Whilst this might not be the glitz and glam of full-time professional sport it has great advantages.
Do you really want the first time you assess, treat and rehab a player to be with an elite athlete?
Would you be confident enough to do this?
For most students and New Grad's the answer would be NO.
Take your opportunities, learn from your mistakes and improve your skills and confidence, just like Jade did…
So you are ready to show what you can really do once those paid and higher level job roles come calling.
Step Outside Your Comfort Zone
When I spoke to Jade, we recored part of our conversation for my podcast.
Just recording the podcast was a big step for Jade and something that was well outside of her comfort zone!
She openly admitted that confidence is something that she has struggled with in the past…
She previously lacked confidence in her skills and felt that it showed when she was taking to patients, players and coaches.
But, what Jade has done about this is a lesson for all student and New Grad therapists.
She spoke and said that…
'Every opportunity I have to step outside of her comfort zone I try to take it.'
Does she feel scared, apprehensive and sometimes uncertain about what she is stepping into…
100%.
But as Jade mentions in the podcast, she wouldn't of been offered a job in professional sport had she not have stepped out of her comfort zone.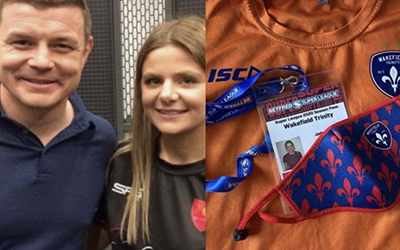 Jade With Rugby Union Legend Brian O'Driscoll & Her Kit From A Recent First Team Game For Wakefield Trinity Rugby League Club
Over the last 12 months the biggest change I have seen in Jade is her growth in confidence.
Just the way she speaks about injuries she is dealing with, conversations with patients, players and other members of the MDT and her desire to further progress her career.
This is a different Jade to the one I first spoke to 12 months earlier.
Stepping out of your comfort zone might be uncomfortable for you, but can open up so many opportunities.
And is not as daunting as you may think…
Especially if you have the right support network around you.
Have A 'Safety' Net
There is always times that you might be unsure about a particular patient you are looking after or a new injury, pathology or problem that comes up.
Maybe its a shoulder or lower back injury that you are not quite sure how to tackle.
For Jade, whilst these 'problems' are becoming less and less, she spoke about sometimes needing reassurance that she 'is on the right track.'
This might be checking in to make sure that she has identified the right problem and is no treating the wrong thing.
Jade told me a great story about a lateral knee injury she was dealing with, that wasn't quite improving as she expected.
Rather than just burying her head in the sand, Jade used her support network, therapists that she trusts and can ask questions, to help.
This resulted in a different diagnosis.
Most therapists would see this as messing up…
By not being able to identify the right diagnosis and having to ask for help.
But not Jade!
She just wants to provide the best service to her patients and athletes.
She is confident enough to speak up and ask questions and ask for help when she needs it.
And she has a network of therapists she can call on when she does get stuck!
I know how this feels.
Even now as a so called 'experienced' physio with over 10 years of assessing, treating and rehab injuries, both in private practice and elite sport, I sometimes need help.
Most of time it is a quick phone call or message to another therapists to ask a question or two.
9/10 what they advise they would do…
Is what I am already doing.
But more importantly than that…
It gives me great confidence knowing that if, like Jade, I do ever get stuck and a patient or athlete is not progressing how I would like…
I know I have that 'safety net' and support around me to help me out.
Thanks for reading and a big thanks to Jade for her top tips!
Andy Barker
The New Grad Physio Mentor
PS. These tips are just a small snippet of some of what we discussed when recording the podcast!
This episode is #60 of the New Grad Physio Podcast and you can check out this podcast and all the previous episodes at www.newgradphysio.com/podcast
All episodes are also available on all the usual platforms including apple, google, soundcloud etc…
Just search 'The New Grad Physio Podcast.'
PPS. If you check out the page and the podcast is not there it might be because its not been released – it goes out at 6 am on Thursday 1st October 2020.