How To Get Your Foot In The Door As A New Grad In The NHS, Private Practice Or Pro Sport
Current circumstances mean there is more uncertainty than ever before.
MSK NHS therapy provision has been redirected to fight the Covid-19 pandemic…
Private clinics are just starting to re-open, but with greatly reduced capacity…
…and as I right this blog only Premier League football has restarted in the UK with all other major sports and sporting events suspended or cancelled.
The current affects are having a big impact on the therapy job market.
Clinics are cutting staff, reducing the number of hours available…
The government will know doubt reduce spending budgets over the years to come to try recoup some of billions it has spent on fighting covid-19…
…and this will likely have a big impact on the availability of non-emergency therapy care and jobs in this area…
…and given the current uncertainty in the sporting world, pro sports clubs and organisations are not hiring new staff.
1000's more therapists will graduate this Summer.
Add this to the 1000's of therapists already looking for work or another job role…
…then add on all the therapists that have already (or will shortly) be losing their jobs…
This means many more therapists applying for a limited number of job opportunities.
If ever there was a time you needed to stand out from the crowd in a busy job market it is NOW!
Carry on reading if you want to learn the steps you need to take, right NOW, to standout from the crowd in what will be an ever increasingly difficult job market and hit the ground running post Covid-19.
Getting Your Foot In The Door
Almost every therapist, myself included, is frustrated that we can't help patients in the way we would like at the moment.
The situation is frustrating and challenging…
Maybe your a therapist in a clinic or sports club and have been unable to work.
Maybe you have been asked to work in a different area in the NHS and whilst it might have been necessary given the circumstances, its not the area you enjoy working in the most.
Or maybe your a student and have lost placement hours, lost time hands-on during placements that were cancelled and feel you have missed the opportunity to learn and develop your skills ready to enter the real world, treating real patients.
But, it's not all doom and gloom…
Smart therapists are actually using this time to their advantage and are the New Grads that will hit the ground running post Covid-19.
And it's just not about doing loads more CPD…
…watching webinars and videos and reading the latest research papers.
That stuff is great…
But…
It is NOT going to help you get your Foot In The Door at your dream NHS job, at that private clinic role you want or that sports club you would love to be involved with.
You need to be able to walk the walk once your in that environment and be competent with your assessment, treatment and rehab skills…
…but you firstly need to actually get your foot in the door.
So how do you do it?
How To Standout From The Crowd
You do it by being able to stand out from the crowd.
By creating opportunities for yourself and setting your self apart from your peers and all those other therapists that WILL be applying for the same roles.
If you think a CV you copy and pasted from google…
…or that you can just 'rock up' to an interview and give a 10/10 performance…
…then you are wrong.
And getting these things wrong won't get you on that first step to a successful career as a New Grad Physio, Sports Therapist or Sports Rehabiliator…
…or that next promotion with your current employer or a better role somewhere else.
Going back to my days as a student, I did some things, mostly by accident, that helped me to standout and meant that I walked into a job straight from University, at my boyhood sports team, the Leeds Rhinos, without even having to interview.
Just over a year later I had progressed to not only working there, but I had been promoted to the Head Physio role, my dream job, the job I had dreamed of doing from the day I knew I wanted to be a physio.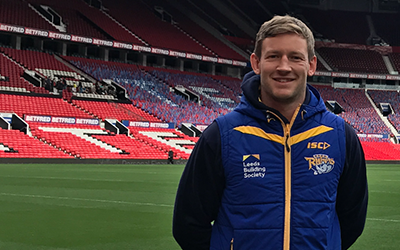 Looking back now, I know exactly why I was given the opportunity and offered a job straight from University, ahead of other students that were clinically and academically 'better' than me…
Don't Do This…
The biggest mistake I see New Grad's make is when they reach out and make contact with hospital departments, clinics and staff at sports clubs.
You might be asking for a placement, an internship, a shadowing opportunity or even a paid role in the NHS, private practice or sport.
The mistake?
You actually ask for these things…
Maybe you've done the same…
Sent an email with your CV attached.
Usually it starts something like this…
'Hi I'm Andy a newly graduated physio….'
And usually ends up with this response…
You don't even get a reply (very common)
2. You get a reply stating there are no opportunities available at present (also very common) or
3. You get a reply that states they 'will keep your details on file' should any opportunities come up (less common – but this is a nice way of saying no and they won't be keeping your name on file).
Sorry to burst your bubble.
That first contact…
That email, phone call or message is vital.
Its often your first interaction with your potential employer and we all know how important first impressions are.
So you need to make yours count.
Do This Instead…
Whether you have qualified or you are still studying, there is no better time to develop your career skills.
You could be the best graduate and have aced all your placements, be confident and competent with your patient assessments, hands-on treatments and your patient rehab.
You would probably make a great addition to any department, clinic or sports club…
But that unfortunately does not mean you will get an opportunity.
You need to be competent with your clinical skills, your assessments, treatments and rehab…
You need to be confident with your patient handling, communication skills and be able to build patient rapport and trust with your patients and the other staff you work with…
But you also need to be competitive, and have the career skills so you can stand out from the crowd, get ahead of your peers and fly up the promotion ladder faster than you ever thought possible.
Loads more clinical CPD won't cut it…
Learning those career skills that University did not teach you, will.
These are the skills that will help you open doors, create opportunities and get your foot in the door at the NHS department or clinic you want to work at or even that pro sports club you've always dreamed of working with.
You can be the best therapist in the world on paper but without some basic career skills and guidance you might never get that opportunity and may just never fulfil your potential.
Andy
The New Grad Physio Mentor
PS. If you would like to know the exact steps you need to take to stand out from the crowd, showcase your best skills and get your foot in the door at that private clinic, NHS department or even a professional sports club then email me at andy@newgradphysio.com and I'll let you know how to do this…
Put the subject 'Foot In The Door' in the email and Ill get back to you asap…