How To Manage An MCL Knee Injury – Early Management & Immobilisation
Injuries to the MCL (medial collateral ligament) are common, particularly in sport and I know this injury well myself…
Having suffered MCL injuries to both my knees!
One was whilst playing sport the other, I fell off a table I was dancing on on a lads holiday in Malia!
The less you know about that one the better!
I have also managed dozens of these injuries during my time working in professional sport, from grade 1's to grade 3's and have had experience of surgical MCL cases.
Having seen many of these injuries and especially having had this injury myself, my acute management of an MCL injury has greatly changed over the years…
And also very different to what the textbooks, many other therapists and even consultant knee surgeons would advise.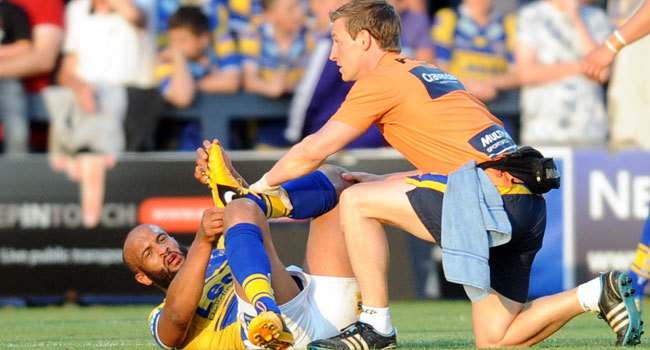 Here's why…
Firstly, there are no definitive protocols on how to manage an MCL injury.
Take for example, bracing.
There is a lot of debate as to how long to brace an MCL injury for, or even if a brace should be used at all.
This confusion causes many therapists to manage these injuries very differently.
I do brace MCL injuries, regardless of their grade of injury, for two reasons.
Firstly, bracing the knee is effective to protect the joint and prevent further injury, particularly as it will prevent excessive valgus force, the movement that stresses the MCL the most and secondly…
It allows the MCL time to repair.
One thing to note…
Due to the close proximity of the MCL and the medial portion of the meniscus it is key to rule out a meniscal tear when you have a patient or athlete with a suspected MCL injury.
Clinically this can be difficult, especially acutely, as often the subject may not allow testing due to apprehension or pain.
The mechanism of injury for an MCL, fixed foot and valgus force to the knee, can also be similar to an ACL injury so it also important to rule out this injury.
Particularly as both meniscal and ACL injuries would need a different management path to an isolated MCL injury.
But let's assume we are dealing with an isolated Grade 3 MCL injury.
My bracing plan would look like this:
#1. Braced locked at 30 degrees for 7 days (Phase 1)
#2. Braced set to between 30- 60 degrees flexion for 7 days (Phase 2)
#3. Brace set to between 0-90 degrees flexion for 7 days (Phase 3)
Beyond the bracing protocol subsequent rehab and return to sport will occur (Phase 4)
This bracing plan is significantly shorter than more traditional orthopaedic guidelines which would generally look at a minimum of 2 weeks per brace setting.
These traditional guidelines would mean a minimum of 6 weeks in a brace and an estimated return to sport at around 10-12 weeks.
However, whilst only bracing for half this time (3 weeks) I have found that this is sufficient time to allow adequate tissue healing and subsequent return to multi-directional and contact sport between 4-6 weeks.
This is given one important factor…
That patients and athletes are compliant with the bracing protocol.
It is imperative that the brace is worn at all times, including sleep, to ensure ligament repair is maximised.
The brace should only be removed for physiotherapy treatment (propping the limb to mimic the bracing position) and showering/bathing.
Also remember that any timescale would only commence once the brace has been applied and not when the injury first occurred.
Early MCL diagnosis is key.
Those that have been left and not braced immediately often have a much longer prognosis and for some, tissue integrity in the long term isn't great even after a significant bracing period.
This can lead to a need for surgery to restore medial knee stability or lead to a higher risk of re-injury to the MCL or other significant knee injuries like ACL and meniscal injuries in the future.
My last MCL injury (the sport one!) happened back in August 2015.
I suffered an isolated high grade 2 MCL playing rugby.
It was the classic mechanism of a fixed foot with a tackle, causing an impact to my lateral knee, forcing my knee into valgus.
I pushed my rehab hard. This was for two reasons.
Firstly, I was working at the time as the Head Of Physio & Rehab at the Leeds Rhinos and as part of my role I am required to run on the field of play to assess and treat players when needed, both in training and especially during games.
As a physio in rugby you have open access to the field of play and as a result often do a fair amount of running on and off the pitch.
Just out of interest I once wore a GPS unit for 3 consecutive games to track how much distance I covered per game and it was between 3 and 4.5 km!!!
The night prior to my injury we had won our semi-final taking us to the Challenge Cup Final at the infamous Wembley Stadium.
The only problem that I had was that game was in just 4 weeks time!!!.
28 days exactly from the the day I was injured.
Whilst in the brace and whilst being unable to run, the assistant physiotherapist at the club took over my on field duties and we had made plans for him to continue covering the games until I was back fit.
This in theory included the game at Wembley Stadium…
But obviously I wanted to do everything possible to get back for this game!
Secondly, whilst I had planned and rehabbed dozens of athletes previously following MCL injury I wanted to know how far I could push myself and if I could learn anything new regarding the management of this type of injury.
In essence, I was my own MCL guinea pig!!!
But did it work out and did I make the game at Wembley.
You'll have to wait to see in my next blog!
More important than that…
In this next blog I will reveal exactly what treatment and rehab I followed during my recovery from this injury…
From the day I was injured to the day I returned to rugby…
The rehab I did whilst in the brace and the drills I did out on the pitch.
These are the exact same treatments and rehab exercises and drills I use with the patients and athletes I work with.
PS If you want to learn a little more about MCL injuries and can not wait for the next blog just give me a shout here.
If you have a spare 30 minutes book a Career Accelerator Call and I can tell you anything you want to know about MCL injury management…
Or anything else you want to know more about…injuries, rehab, treatments, maybe even some career guidance.
Book a call here